Deep In Thought – Prestige Magazine
THE MIND IS A GREAT THING BUT THERE ARE VERY FEW OF
us who are able to translate the frivolities of the amusement park in our head onto canvas. For that, blessed are all the creative people who are able to do it with great aptitude. The cacophony of chaos in the mind of retired pharmacist Ong Oh Hup Hoe is bounteous. In the past couple years, he channeled them fittingly to create a symphony of colours that dances to the tune of seventh heaven, the realm God and the highest state of bliss which is the theme of his latest and third solo exhibition. The 7th Heaven Series by Ong will be held at Core Design Gallery in Subang Jaya. In the foreword, Ong notes: ''In my dreams of dreams, my fantasies and reality seem to blend, and before my eyes lay the most beautiful and colourful thing I have ever seen. Mythical animals appear and speak to my about the greater universe. I listen in awe, fascinated and showered by the umbra of energised light….''
7TH HEAVEN SERIES
To Ong, 7Th Heaven is a tete-a-tete on canvas about a process and it exhibits a wheel or the kinetics of life, "Seventh heaven is often mentioned in a religious viewpoint. To me, it's the pinnacle of experience and an opportunity for me to use art to share the vastness of experience from the different facets of me life," says the painter. At the age of 95, there is an unexplained joy bubbling in his heart, a calmness that envelopes his life. His thoughts and philosophy in life are unconventional but they are not ones that you will readily disagree with. "My works ore my own viewpoint; they are a representation of my spiritual drive and they are not necessarily a religion. I don't meditate but this energy than I have within give me the vigour to translate it onto canvas. I would say that the paintings drew themselves," he says with a laugh. Ong wants to provoke viewers with his notion of absolute bliss and life cycles while admitting that a great deal of thought goes into each painting. In The cycle for example, the first level at the bottom depicts the arrival of men at a land they see fit to settle down at and gradually, as the number of people multiplies, so does the number of homes. Eventually, everything is the flattened by what Ong says could be or the end of the world. That is the cycle of life. "In the Night, In Between and Down triptych, I provide an interesting graduation of sleep, from entering the realm of dreams before the wake of down. In Between has definitely captured the mystical aura of dreams which most of us would experience, This series of painting reflects the images and flashes I have between sleep and wake,'' he says.
COMING OF AGE
In the 70s, Ong was known for his flattened two-dimensional stylized Egyptian women figures, which reigned on the mystery and movement. He was also known for his signature co lour poster work which he says went on to be sold in some other parts of the world. "Art saw me through my tertiary education. By selling my artworks, I paid for my pharmacy degree. After spending 30 years away from the art scene and mired in the rat race," I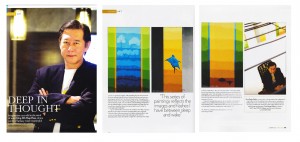 returned with great pleasure ten years ago to my first love,'' says the self-taught artist. Throughout his pharmaceutical career, Ong enjoyed engaging in sales and marketing as well as meeting people. "My art is about communicating with people. I look at different angles. I strive to create tolerance and I hope that my art will show them that there's no 'one and only' way of seeing the word and understanding it.''
Age or maturity does not reduce the freshness of an idea, Ong says, because an idea itself symbolizes something that is new and fresh. "Maturity helps with execution and with better technical effects, you can put out real decent works. My works appear flat and two-dimensional but what I do is harder compared to painting with depth or linear perspective.'' This series is Ong's effort to showcase sights beyond the human form while continuing to present multi hued and meaningful works. "I'm interested in the expression part of what I do more than the commercial aspect. I'm at an age where I can choose to do art for art's sake and not for money because I have that freedom of expression,'' he says .
Ong aptly surmises the interview by noting that as he grows in wisdom, he expands beyond the boundaries of his human frame without losing root. "I look back and all I see whit my spiritual eyes are a vibrant mix of colours, exuding clam and stillness.''
The 7th series exhibition runs from January 1 to 31 at Core Design Gallery.
Core Design Gallery is a new player in the art industry that determined to provide a platform for talented artists without prior art education or background to break into the Malaysia as well as international market. The gallery combines the warmth of a home and the edginess of at raw and de-constructed art space. Core Design Gallery is located at No 87, Jalan SS15/2A, Subang Jaya. For more information call 03-5633 4348
---