Art Expo Malaysia 2013 – Great Malaysia Contemporary Art (GMCA)
In the recent Art Expo Malaysia 2013, Core Design Gallery held a curated art show, showcasing Malaysian Contemporary art from various significant mid-career to established local artists. This marks a significant milestone as it proves to be the very first art curated show of Art Expo Malaysia in the past 7 years since its inception.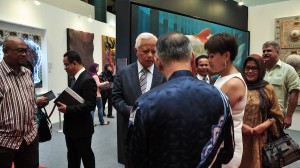 Art Expo Malaysia 2013 was held in Menara Matrade from September 19th 2013 to September 22nd 2013 with a VIP opening preview taking place on the night of September 18th 2013. Core Design Gallery, in consultation with Mr Farouk Khan, a prominent collector of Malaysia contemporary art, had painstakingly cooperated with several of our very own significant artists to each produce a seminal artwork for the Great Malaysia Contemporary Art (GMCA) show.
The one year long preparation efforts paid off where several seminal art pieces were showcased from an astounding ensemble of local artists such as Abdul Muthalib Musa, Ahmad Fuad Osman, Ali Nurazmal Yusoff, Anuar Rashid, Eng Hwee Chu, Fadli Yusof, Hamir Soib, Husin Hourmain, Mohd Noor Mahmud, Shooshie Sulaiman, Suhaimi Fadzir, Tan Chin Kuan and Zuklifli Yusof. The show carried a variety of artworks ranging from paintings, sculptures to mixed media pieces.
Core Design Gallery had the grand privilege to have an ensemble of collectors and VIPs to appreciate our curated GMCA show. It was truly an honour to share the great Malaysian works with the honourable Yang DiPertua Negeri Melaka Tun Datuk Seri Utama Khalil Yaacob during his visit to the expo. Renowned art collectors Dato Nazim Razak and En Zain Azahari have shown much interest in our exhibited works. Not forgetting the increased foreign interest, foreign ambassadors HE Madam Martine Dorance, HE Mr Miles Kupa and HC Paul V Galea from France, Australia and Malta respectively joined us at this memorable event.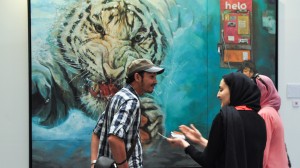 Art Expo Malaysia 2013 was arguably the most successful expo thus far with increased focus on contemporary art. The expo carried participation from various embassies as well as foreign art galleries. The GMCA show was deemed an obvious success as we were able to showcase the quality of our Malaysian contemporary art. We noted added interest from the younger generation with parents indulging the interest into the arts scene as well as educational excursions encouraged by school institutions alike. The show too garnered much attention from foreigners travelling from Singapore, China and Europe. Both local and foreign artists made their way to the show, utilizing this as a platform not only to consider the quality of the exhibited artworks but to also harness new insights. Thereby setting the par for Core Design Gallery as the foremost gallery to establish the infrastructure and forefront for the progress of our local arts industry.
Core Design Gallery would like to take this opportunity to extend a note of thanks and utmost gratitude to all those involved in the preparation of GMCA show notably Mr Farouk Khan as consultant curator, the artists for their fantastic artworks as well the obvious support and interest from the general public. Special thanks to our media partners for the great work on coverage of the event as well as the support from our organizer, Art Expo Malaysia.
We look forward to seeing you again next year with GMCA Phase 2 at Art Expo Malaysia 2014.
---