DUALISM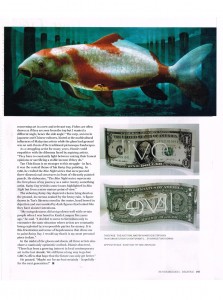 Zoey Moo was captivated by three diverse art pieces by Ahmad Fuad Osman, Hamir Soib and Tan Chin Kuan that vividly portrayed their struggle between artistic integrity and commercial necessity at the recent Great Malaysian Contemporary Art Show
ONE OF THE highlights of September's Art Expo Malaysia 2013 was the Great Malaysian Contemporary Art (GMCA) show that was curated by Core Design Gallery. It marked the first time that an exhibition of this scale has been organised for Malaysian contemporary art. Scarlette Lee, director of Core Design Gallery, said, "Some of our local contemporary artists are on par with international artists, but the scene suffers from a lack of proper information about buying and appreciating contemporary art in Malaysia".
One of the featured artists was Ahmad Fuad Osman, who expresses his art on a variety of platforms such as film, video and painting. " I believe the medium is the message ", he said. For GMCA, his medium of choice was an installation called Hantuhantuhantuhantuhantu…..that was in the shape of a huge American dollar note with the word "Live" etched onto it. Interestingly, it would spell "Evil" when viewed from the back.
Ahmad explained, "People would be able to see themselves in the polished steel surface. I wanted them to question the role of money in their lives. I wanted a play of words too- the name hantu (Malay for "ghost") contains the same letters that spell out tuhan (Malay for "God").It's essentially an exploration of money's ambiguity between life and evil".
Contemporary artists in general don't want to limit themselves to a single medium or style. "As an artist, you are supposed to give the public a fresh perspective on life's many issues. You can't bring about change unless you have a strong point of view ", Ahmad added.
The Auctionland by Hamir Soib is yet another piece that delivered this message. The painting depicted a giant carp trapped by thick bars in murky water. It was primarily a commentary on how auction houses in Malaysia could be manipulated to control the market to build or suppress artists.
Hamir noted, " I wanted to educate the audience about looking at old issues concerning art in a new and relevant way. Fishes are often drawn as if they are seen from the top but i wanted a different angle, hence the side angle". The carp, an icon in Japanese and Chinese cultures, hinted at the multicultural influences of Malaysian artists while the glum background was an anti-thesis of the traditional picturesque landscapes.
As an striggling artist for many years, Hamir could empathise with the dilemma faced by aspiring artists. "They have to constantly fight between voicing their honest opinions or sacrificing a stable income if they do".
Tan Chin Kuan is no stranger to this struggle – in fact, it was the central theme of his Rainy Day painting. In 1988, he crafted the Blue Night series that incorporated three-dimensional structures in front of vibrantly painted panels. He elaborates, " The Blue Night series represents the first phase of my journey as a naive twenty-something artist. Rainy Day revisits some issues highlighted in Blue Night but from a more mateure point of view".
The sobering Rainy Day depicted a horse lying dead on the ground, its carcass soaked by the heavy rain. A figure drawn in Tan's likeness stood in the centre, head bowed in dejection and surrounded by dark figures that looked like they have sinister intentions.
"My outspokenness did not go down well with certain people when I was based in Kuala Lumpur five years ago", he said. "I decided to move to Seremban only to encounter the same situation where artists are constantly being exploited by irresponsible parties for money. It is this frustration and sense of hopelessness that drove me to paint Rainy Day. I would say that it is my most personal piece to date".
In the midst of the gloom and doom, all three artists also share a cautiously optimistic outlook. Hamir observed, "There has been a growing interst in local contemporary art in the last decade. We still have a long way to go but GMCA offers that hope that the future can only get better".
He paused. "Maybe not for me but certainly -hopefully-for the next generation!"
*Great Malaysia Contemporary Art was featured in Prestige Magazine # issue November 2013
---