CONNECTING THE DOTS
The progression of Ali Nurazmal runs along the three threads of abstraction, figuration as well as space, depth, perspective and colour that led to his current style seen in ReALISM. Only through a thorough understanding of the influences of Malaysian art history and its formalistic training on Ali Nurazmal, are we able to study his style.
Abstraction
In order to understand the importance and growth of abstract art, we will need to understand some fundamentals of the Malaysian art history. In the late 70s and 80s, the world and Malaysia by extension experienced a revival of Islamic principles and values.
The government had introduced a policy at the 1971 National Culture Congress that established Islam as an vital element in the national culture, in addition to indigenous culture as a foundation and elements integrated from other cultures where fitting. With figurative representations traditionally given a wide berth in Islam, abstract art flourished in the predominantly Muslim nation of Malaysia.
At the same time, the local art scene was showing promising signs of growth. This was partly accounted for by the homecoming of artists who had received government grants in the 60s and 70s to train in the West.
They brought back to the educational institutions not just upgraded skills, but also refreshing artistic approaches and currents of thought shaped by exposure to globalisation and international art movements. Yusof Ghani, claimed by some to be the master of Malaysian Abstract Expressionism, brought back the influences of American abstract expressionists such as Jackson Pollock and William De Kooning.
The 90s was perhaps the beginning of the Malaysian contemporary art movement. Critically acclaimed artists such as Zulkifli Yusoff, Tan Chin Kuan and Eng Hwee Chu surfaced, followed by the Matahati group in the mid-90s and internationally acclaimed artist Shooshie Sulaiman in the late 90s, seeds the various forms and mediums of Malaysian art. However, abstraction was still very much a trend in the Malaysian art market during the 90s right up to the mid-2000s, with the likes of Yusof Ghani and his influential Tari and Biring series.
Meanwhile, the New Economic Policy (NEP) formed in 1971 to reduce poverty in the country and increase Bumiputera economic equity from around 3% to 30% in 20 years meant that science and technology was given priority over the arts, indirectly impinging on the development of art infrastructure in the country.[3]
It was into a world bearing traces of these changes that Ali Nurazmal stepped. During his art studies at Institut Teknologi MARA (ITM), now known as MARA University of Technology (UiTM), in the late 90s, much focus was placed on honing the technical skills of the students, with recognition being doled out based on impeccable technique. One of the products of this system was graduates who did not instantly find it natural to adopt a discerning and intellectual approach to their art.
Untold numbers of shows, artists and artworks were inadequately documented, and thereafter disappeared into an abyss of oblivion – missing threads of the Malaysian art history narrative that rendered the overall tapestry frayed and incomplete. Furthermore, critical curation was missing from many exhibitions, as was the artists' awareness of how their artworks interacted with the space and other artworks in the show.
Although Ali Nurazmal still painted figures, on the whole his pre-ALISM works shown in galleries from the 90s and 2000s veer towards the spontaneity of the Abstract Expressionism movement. For example, in Faith, Plurality and Freedom(2006), he painted the Dominator, followed by Konflik – Which One #1 #2 #3(2007) and Entertainer in Love (2008). These works mark the inception of the artist's semi-abstract style of painting that uses radiating lines to interpret form and motion.
Space, Depth, Colour and Perspective
Ali Nurazmal did a considerable amount of research in the name of his craft. Not content with just reading about theories, he came to realization on the importance to enhance his fundamental basics and mastery of space, depth and perspective for his artistic development.
Where paintings are often two-dimensional in contrast to our three-dimensional reality, it was vital for one to illustrate the expanse of things and create the illusion of depth within a single limiting canvas. For this, he ventured into interior design for two years to obtain further understanding on realistic form and space. Equipped with his interior design know-how, Ali Nurazmal produced various paintings that expanded on play with space and depth. Out of the many paintings, one notable and personal favourite of his is Entertainer Goes to Heaven. In a purely linear composition, Ali Nurazmal uses the clown as but one object in his interior still life. The table works first to divide the surface of the painting then to penetrate it, implying a great deal of space with the addition of linear perspective.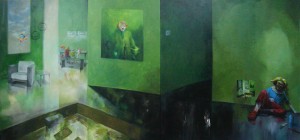 Entertainer goes to heaven | Acrylic on Canvas | 122cm x 164cm | 2008
Curiously Ali Nurazmal chanced upon an opportunity to venture into the advertising and printing industry. As fate has its unique way of unveiling itself, it was during this five-year period from 2003 to 2008 that reinforced the path of Ali Nurazmal's artistic career.
It was through the management of the printing press that further enhanced his understanding of colours, granting him the expanded ability to identify even the most minute nuances among colour values and the acute eye to detect tiny changes in colours to create depth.
Paramount to the career development of any artist, the advertising work that Ali Nurazmal underwent brought about an in-depth understanding for the artist of his audience and their preferences. Aside from his technical skills that was formed during his formalistic education, the exposure within the advertising arena provided him with conceptual ideas and differing creative approaches that were necessary for the development of his contemporary art.
A master of colour values perhaps must be credited to Anuar Rashid for whom Ali Nurazmal has immense respect as one of the important painters in Malaysia art history. In Anuar's legendary Inderaputera series in 1970s, the use of explosive colours and varying tones set the precedent to the ways colours were used to create atmospheric perspective and equivocal space that hailed him the genius of his era.
With this, Ali Nurazmal's keen study of his personal observations coupled with his technical know-how brought forth the interesting use of varying red tonal values that can now be seen in the ReALISM works, giving it the push and pull factor in his paintings.
Figuration
In the noughties, the general perception of figurative art had changed. One of the factors was globalisation. Approaching the turn of the millennium, the country's overall economy experienced a boom – an outgrowth of Vision 2020, a monumental program unveiled in 1991 to propel the country towards becoming a fully-developed industrialised nation by 2020.
One component of the program involved establishing a progressive and technologically-advanced society. As a result of the improved technology infrastructure and access to the internet, the flow of information from other parts of the world – the West in particular – grew from a trickle to a gush during the 2000s.
The surge of internet was important to the younger generation who began to move towards mixed media, assemblage and installation and newer mediums. With the globalisation in effect, these alternative mediums also became a more acceptable form of art.
Instead of pursuing another medium for his expression in art, Ali Nurazmal persisted with his paintings. He took to imitating Caravaggio, brushing up his skills in form-rendering. During the late 90s to early 2000s, Amron Omar who had 30 years of drawing and painting figurative art with a true formalistic understanding of form and figures in his seminal Silat series was an influential figure among the young generation of artists including Ali Nurazmal Yusoff in his 2000s.
His earlier works such as Entertainer in Love (2008) was a marked attempt of pursuing his very own style. Upon closer study, the clown figure was "flat" as his technical understanding on figuration was still lacking in his earlier years.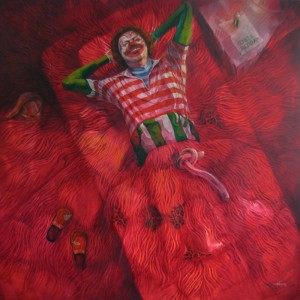 Entertainer in Love | Oil on Canvas | 183cm x 183cm | 2008
Thus taking a step back, Ali Nurazmal began painting clowns and cartoon characters naively and freely to allow another part of his creativity to flow while exploring figuration and his self-identity. This led to the derision of some collectors, who taunted that he would at best remain a comic artist instead of becoming a bona fide figurative artist.
Undeterred by their barbs, for his first solo exhibition Satire in Paint in 2009, Ali Nurazmal painted Imitation Master: After Caravaggio. Its visuals were inspired byCardsharps, a painting by 16th century Italian artist Michelangelo Merisi da Caravaggio presenting a young man swindled by two cardsharps.
Unlike the original painting, the artist painted himself standing in the shadows of the room; he had observed the silent exchange between the crooks and was eager to reveal their trickery.
The artwork, measuring more than three meters in length, combined elements that he had been exploring for years – figures, the conflict between Eastern and Western influences and chiaroscuro or the contrast of light and dark to shape volume. Taking six months of non-stop painting to complete, the artwork was all for the sake of understanding form-rendering and pushing his formalistic training further in figurative art.
The painting and subsequent works from his second solo TellTale in 2010 likeLetter for Mona and Force of Nature, significant to Ali Nurazmal's career as they were, laid the groundwork for the next phase of his artistic journey: ALISM.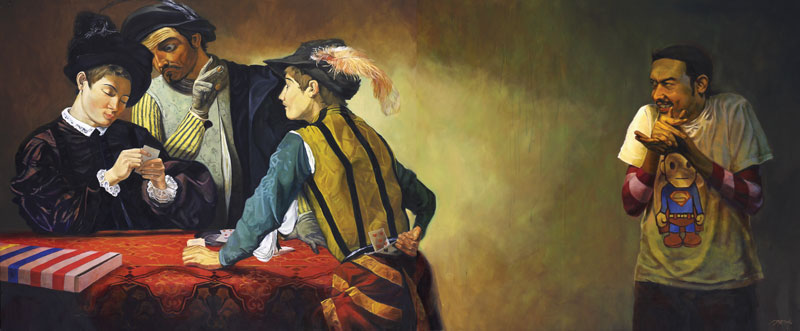 Imitation Master – After Caravaggio | Oil on Canvas | 122cm x 290cm | 2009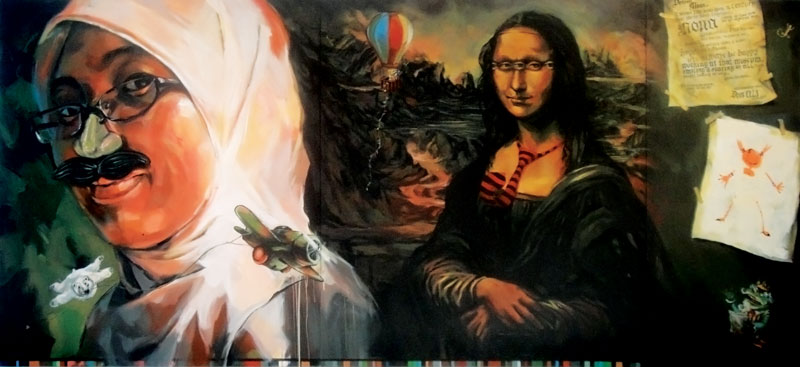 Letter for Mona | Acrylic on Canvas | 137.5cm x 305cm | 2010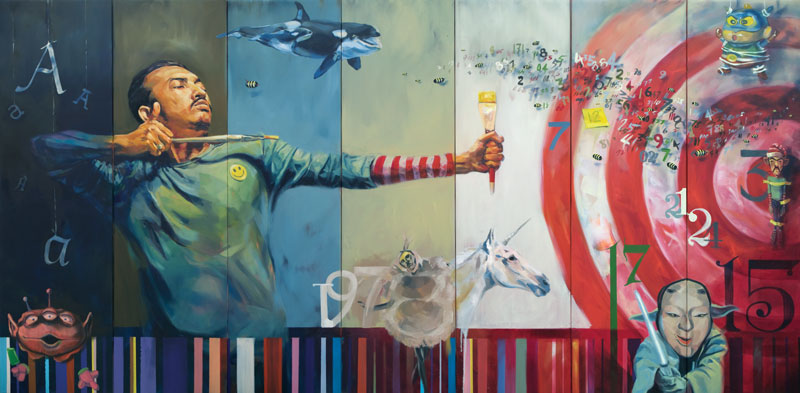 Force of Nature | Oil on Canvas | 140cm x 284cm | 2010
Great Festival | Oil on Canvas | 140cm x 284cm | 2010
Medicine Seller | Mixed Media on Paper | 152cm x 91.5cm | 2010
[3] Abdullah, S. (2012) Art Criticism versus Art Writing: The Malaysian Situation