Since the tender age of 5, the artist has been very taken with the arts and ventured into various art competitions and exhibitions to garner more insight. Speaking with the artist, he shares memories of his secondary school where it was in these years that he decided to take the arts seriously. Amazingly so, he reveals his school as one school which is a truly avid supporter of the arts and carries even its own arts studio. Fond memories of his school teachers and his avid participation in painting murals on school walls were almost talked about endlessly.
Hailing from Sungai Petani, Kedah, Haafiz was already representing the Kedah state by our very own renowned Balai Seni Visual Negara (National Visual Arts Gallery) in their art exhibition at the young age of 16. It was during this time when he met the famed Juhari Said and that spurred him to the art of print-making. There was no turning back ever since.
Haafiz continues on his art journey to pursue his degree in Fine Arts, majoring in print-making with Mara Universiti of Technology (UiTM). Admittedly it was a long journey where he hints on resistance towards his choice of use of pyrography in his art. Committed as he was, Haafiz persevered on with pyrography to the point of in-depth research involving thermodynamics. It was through this long study of the intricacies and complexities of pyrography that further re-affirms his love for print-making.
After almost 3 years of research into the use of pyrography in art, Haafiz completed a series of impressive artworks with fishes as his theme of the day. These fishes were primarily self-made metal blocks from scrap metal pieces, imprinted onto PVC in varying patterns. Carrying light monotones in this series, the fishes are captured to be roaming around this imaginary gloomy pool of water with streaks of seeming sunlight streaming in, where shades of lighter tones are drawn. This series of works were the results of his thesis for his graduation. With the artworks being so unique and aesthetically beautiful, it is hard-to-miss Haafiz's unquestionable skills and justification for his graduation coupled with appreciation received from established artists both local and foreign.
Subsequently in 2011, Haafiz surprised us with his figurative paintings, providing us with a fresh perspective to his multi-talented persona. Dance of the Unleashed Spirit was exhibited as part of a group exhibition, Figurativismo at Core Design Gallery. Using mixed media on canvas, the painting is a true eye-catcher as one is driven to look further into the human anatomy. While the portrayal of a human skull may be dark, the painting is celebrated with lively water colours and hip-hop body movements; thereby emitting positive energy, an uncanny marriage between the vibrancy of life against the gloomy reign of death. Being an avid fan of B-boy dance (more commonly known as breakdance), the artist is a frequent dancer that marvels at the dynamism that the human body can bring to life. In Dance of the Unleashed Spirit, the painting represents his insights to the complete human figure and the corresponding remarkable movements that the body can make; a true art in its own genre.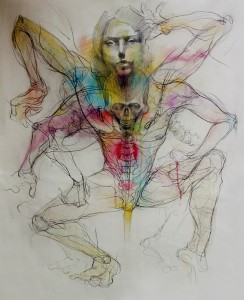 Dance of the Unleashed Spirit | Mix media on Canvas | 91cm x 121cm | 2011
The Joy of Scopophobia takes on a similar concept to his earlier piece, The Dance of the Unleashed Spirit. Scopophobia defined as the fear of being stared at or looked upon. The painting painted with charcoal duly complimented with vibrant water colours, reflects the differing facial expressions of fear and oddity. Amidst the gloomy theme, the painting carries with it a light sense of humour; thereby providing the viewer with pleasant visual experience yet prompts an eagerness to indulge into the subject matter. This truly brings about the beauty of art where art itself transcends across barriers; of cultural or communication; bringing people from all aspects of life together.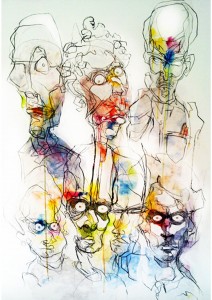 The Joy of Scocophobia | 122cm x 92cm | Mixed Media on Canvas | 2011
Limitless, a painting completed in 2012, is truly a significant piece that not only marks the clear progress of the artist but a notable downtime in his life. Faced with much resistance and emotional conflicts, Limitless is very much representative of the artist's emotions and perceptions during this trying times. The depiction of a dark human skull against the beautiful human façade suggests that there are always 2 sides to a picture, a story. Utilising a variety of media encompassing charcoal, poster colours and even oil on canvas, Haafiz paints on to articulate the versatility of the human mind, that is, the ability to indulge in-depth into either the positivity or negativity of a situation. With the illusion of print on this painting, one is truly awed by the clarity and dull-like effect of the human face upon realization that no transference of image was present here, but mere free hand drawing of the artist. The choice of butterfly was a natural option, reflecting the limitless versatility of man to 'transform', to rise above all challenges. Thus the title of choice could be none other than Limitless. Final touches of colours were lightly added on to the painting, blended naturally to accentuate its aesthetic beauty.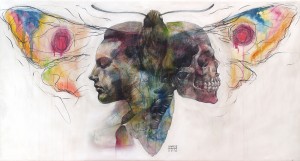 Limitless | Mix media on Canvas | 76cm x 143cm | 2012
The daredevil that he is, Haafiz further explores the use of enamel emulsion into his paintings. Re-make was produced in 2012 with mixed media combination of enamel emulsion, water colours, oil and charcoal on canvas. Consequently being an avid dance fan, Haafiz brings us closer to home, introducing our very own renowned cultural silat dance into his paintings. Produced with mixed media on canvas, namely enamel spray amongst others, Mengejar Jiwa I and Mengejar Jiwa II portrays his fascination and interest into our Malay silat dance. Silat is an indigenous martial arts technique popular in the South East Asian region which is often deemed as a slow dance-like art championing the keris – local Malay sword. Carrying influences from Yusof Ghani, Joy of Fury 2 gained much attention at Art Expo 2012. The painting presents art enthusiasts and collectors alike with a more vibrant energy to his previous silat paintings.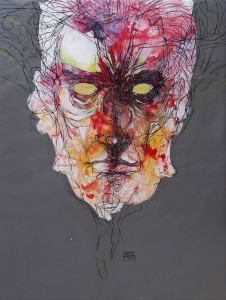 Re-make| 122cm x91cm| Mix Media on Canvas| 2011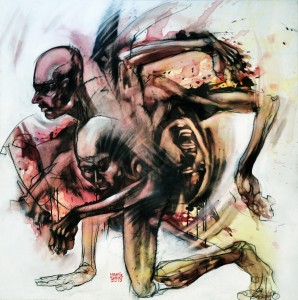 Mengejar Jiwa I| Watercolor,Acrylic,Charcoal and Enamel Spray on Canvas| 121cm x 121cm| 2012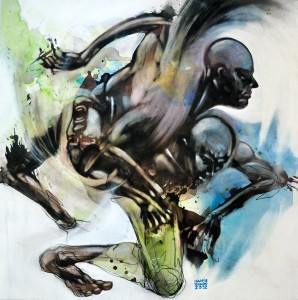 Mengejar Jiwa II | 122cm x 122cm | Watercolour and Mixed Media on Canvas | 2012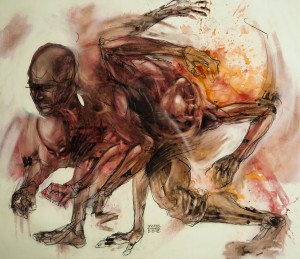 Joy of Fury 2 | Charcoal, Pencil, Watercolor, Enamel Spray on Canvas | 137 cm x 157cm | 2012
Mito is a painting close to the artist literally. Raised eyebrows are a common sight as it unfolds to reveal that the painting was conceived with his own body covered in colours to inspire the onset of the painting. Haafiz's creativity and continual quest for new concepts and ideas is unquestionable, thereby portraying promising signs of a true contemporary artist.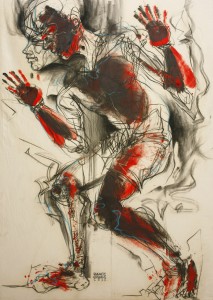 M.I.T.O | Charcoal & Acrylic on Canvas | 2012
Admittedly, the artist reveals a burning passion within him for his art. His somewhat rebellious nature spurs his quest for creativity and ultimately, perfection. Naturally pyrography remains his forte amidst all his other artistic pursuits. Hence the choice of 'writing with fire' or in this case 'drawing with fire' is a natural progression to channel his fire effectively. Whilst there lies clear dangers in working with fire, pyrography is an art that may require frequent trials to achieve the desired results as one needs to mold the metal blocks appropriately. Mischievously so, the artist reveals a trade secret to the art of using pyrography…. is not to achieve perfection but to create accidental beauty. Nevertheless with much said and done, Haafiz displays no less artistic skills as he creatively designs and innovates his prints into aesthetically pleasing artworks.
In Zaman Batu Contemporary 2013, Haafiz presents us with Menggapai Nafas and Kembali Bernafas, 2 refreshing pyrography artworks carrying his signature fishes as the main theme. Measuring at 182cm x 273cm, Menggapai Nafas is a 3-panel centerpiece boasting the peace and serenity of blue waters. The calming effect of blue hues coupled with the energetic swim of the fishes brings one to a mood of positive energy, surprisingly bringing together the yin and the yang in full harmony.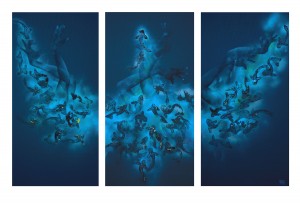 Menggapai Nafas | 182cm x273cm| Pyrography, Heat transferring images,enamel spray, PVC on Canvas | 2013
Kembali Bernafas further signifies Haafiz's continual progression in his art, where the human element is introduced. Championing nature's beauty, Haafiz synchronises hues of green into his blue waters suggestive of the richness of the cool blue waters. Kembali Bernafas proves to be not a mere charm of an eye-pleaser but provides a more powerful personification of the human character; our strong will and perseverance to rise victorious and confident above all challenges and competition alike.
Kembali Bernafas| 121cm x243cm| Pyrography,Heat Transferring images,enamel spray,PVC on Canvas |2013
In 2013, Haafiz returns to his familiar trait, where he is seemingly more commonly known as 'Silat action painter' within the local art scene. Vermillion clearly signifies his further artistic development as one can clearly view the added complexities and details to his human figures and their corresponding silat-inspired movements. Regardless of its present complexity, the suave yet bold body movements blend in magically and naturally, creating a seemingly panoramic visual experience of the renowned silat dance.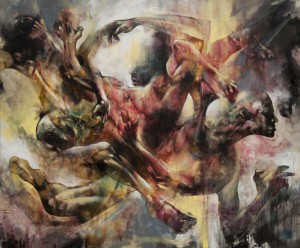 Vermillion| 150cm x 180cm | Mixed Media on Canvas | 2013
Boasting diverse talents in varying fields of creative arts from performing arts to fine art, Haafiz is an undeniable forerunner of his generation. Being the 1st of its kind in Malaysia, his courageous approach and devilish smile hints on a prodigy-in-the-making as he persistently champions his art of print-making through pyrography. His bold drawing skills and vast techniques employed in his artworks exhibits his commitment to his passion and versatility in producing artworks that leaves one in wonder for the next.
At only 27 years of age, Haafiz is truly the upcoming star to look out for in the upcoming Malaysia contemporary art scene. Conceptually strong and instrumental, one is kept at the edge of his seat in curious wait for Haafiz's next seminal piece.