Subculture, Komunis & NGO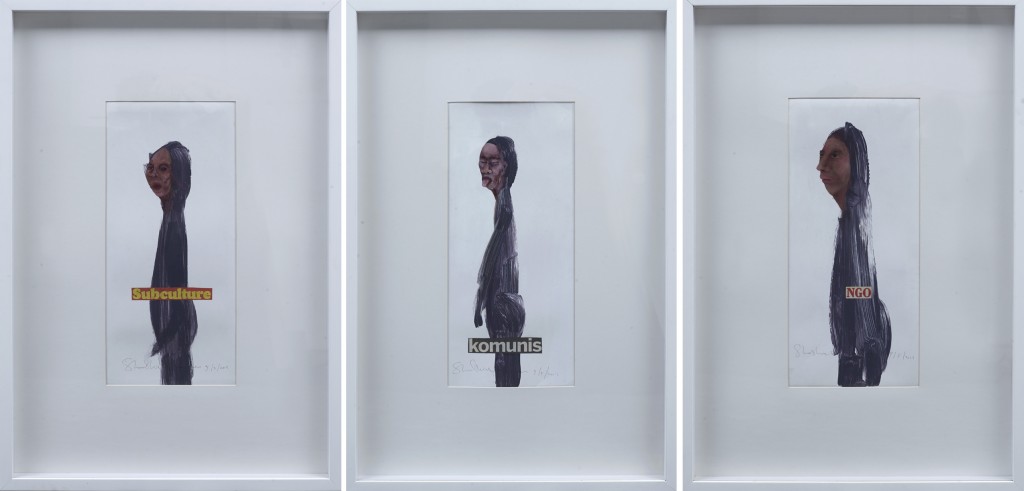 Written by Zena Khan
Subculture, Komunis and NGO are three out of a set of six mixed media works by Susyilawati Sulaiman, or as she is popularly known, Shooshie. Created in the aftermath of the Malaysian General Elections in 2013, they are a wonderful example of the energetic manner in which Shooshie engages with the world around her.
Shooshie is known for producing two-dimensional works, which are small in comparison to the often room-sized installations that are garnering her great acclaim on the international art scene, and Subculture, Komunis and NGO are no exception. Measuring forty-six by twenty-one centimetres in size each, they nevertheless are filled with an explosive dynamism that belies their relatively dainty dimensions. Each work has a caricature-like figure positioned squarely in the centre of the canvas. The faces of each figure have more detail than their bodies, which are the result of a few thick, expressive brushstrokes, aimed to convey the side-profile silhouettes. Cutting out the words "subculture", "komunis" and "NGO" from newspaper headlines, she carefully pastes one word across the mid-section of each character. As with many of the artist's two-dimensional works, the final outcome was surprising for her due to the highly expressive manner in which she creates them.
Shooshie comments that her two-dimensional works are highly spontaneous often created as an immediate response to an emotion or event. Subculture, Komunis and NGO form part of her response to the hotly discussed GE13 in Malaysia. A highly anticipated political episode, which sparked off intense debates and often strongly polarized allegiances, the GE13 was a major event in the life of most Malaysians in 2013. Influenced by her late father who was the Ketua Umno of Padang Lalang in his lifetime, Shooshie is an avid follower of Malaysian politics, keenly studying the events leading up to and results of GE13. Subculture, Komunis and NGO along with Demokrasi ke 13 and Propaganda ke 13 which were unveiled at the GMCA 2013, result from her natural response to her observations. Shooshie questions what are the elements necessary for a progressive, intellectual society and which is the natural path towards a successful democracy. While Demokrasi ke 13 and Propoganda ke 13 had a stronger focus on the actual politics of GE13, Subculture, Komunis and NGO busy themselves more with the social understandings and education that act as the support system for successful democracies, reminding citizens that it is ultimately their involvement which affect the environment they live in.
Contemporary artists are tasked to be the visual commentators of their time. One of the artist's notes via Subculture, Komunis and NGO, and indeed Demokrasi ke 13 and Propoganda ke 13 as well, is the shift within citizens taking responsibility for their political situation. She observes a lessening in nationalism from when she was growing up in Johor and through her art, strives to identify the forces responsible for this change. As she is known to do, Shooshie makes her comment on society and politics from a highly personal starting point, this time referencing her childhood environment.
Shooshie's efforts to decipher the precincts of Malaysian identity, society and politics, as exemplified in the highly energetic trio Subculture, Komunis and NGO, have been identified as an important marker in the discussions of the evolving cultural landscape that is twenty-first century Southeast Asia. 2014 has been an exciting year for Shooshie, with her invitation to showcase her art at both the seminal Art Basel Unlimited and Gwangju Biennale, prestigious events she adds onto her glowing CV. It is her ability to present fully realized concepts in perfectly resolved visuals, whether two- or three-dimensional, which has caught the attentions of not only Malaysia, but the world, to her thought-provoking works.
Title: Subculture, Komunis & NGO
Artist: Shooshie Sulaiman
Size: 79 cm x 54 cm (Each)
Medium: Oil on Boxboard & Newspaper cutting
Year: 2014
---