An Imperfect Light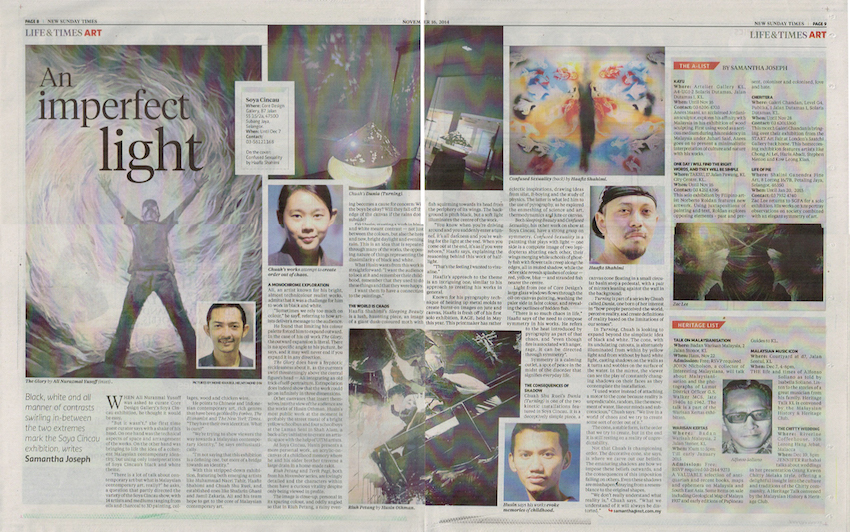 BY SAMANTHA JOSEPH – 16 NOVEMBER 2014
WHEN Ali Nurazmal Yusoff was asked to curate Core Design Gallery's Soya Cincau exhibition, he thought it would be easy.
"But it wasn't," the first time guest curator says with a shake of his head.
On one hand was the technical aspects of space and arrangement of the works.
On the other hand was bringing to life the idea of a coherent Malaysian contemporary identity, but using only interpretations of Soya Cincau's black and white theme.
"There is a lot of talk about contemporary art but what is Malaysian contemporary art, really?" he asks, a question that partly directed the variety of the Soya Cincau show, with 14 artists and mediums ranging from oils and charcoal to 3D painting, collages, wood and chicken wire.
He points to Chinese and Indonesian contemporary art, rich genres that have been profiled by Forbes, The Economist and The New York Times.
"They have their own identities.
What is ours?" "We're trying to show viewers the way towards a Malaysian contemporary identity," he says enthusiastically.
"I'm not saying that this exhibition is a defining one, but more of a bridge towards an identity." With this stripped-down exhibition, featuring both emerging artists like Muhammad Nazri Tahir, Haafiz Shahimi and Chuah Shu Ruei, and established ones like Shafarin Ghani and Jamil Zakaria, Ali and his team hope to get to the core of Malaysian contemporary art.
A MONOCHROME EXPLORATION
Ali, an artist known for his bright, almost technicolour realist works, admits that it was a challenge for him to work in black and white.
"Sometimes we rely too much on colour," he says, referring to how artists deliver a message to the audience.
He found that limiting his colour palette forced him to expand outward.
In the case of his oil work The Glory, the outward expansion is literal.
There is no specific angle to his picture, he says, and it may well never end if you expand it in any direction.
The Glory does have a hypnotic recklessness about it, as the currents swirl threateningly above the central figure's head — Ali integrating an old trick of self-portraiture.
Extrapolation does indeed show that the work could go on infinitely in three dimensions.
Other canvases that insert themselves into the view of the audience are the works of Husin Othman.
Husin's most public work at the moment is probably the street mural of a bright yellow schoolbus and four schoolboys at the Laman Seni in Shah Alam, a back-alley initiative to create an artistic space with the help of UiTM artists.
At Soya Cincau, Husin presents a more personal work, an acrylic-oncanvas of a childhood memory where he and his older brother traverse a large drain in a home-made rakit.
Riuh Petang and Terik Pagi, both from his November series, are lovingly detailed and the characters within them have a curious vitality despite only being viewed in profile.
The image is close-up, personal in its sparing colour, and oddly angled so that in Riuh Petang, a rainy evening becomes a cause for concern: Will the boys be okay? Will they fall off the edge of the canvas if the rains don't subside? For Husin, creating a work in black and white meant contrast — not just between the colours, but also the here and now, bright daylight and evening rain.
This is an idea that is repeated through many of the works, the opposing nature of things representing the dissimilarity of black and white.
What Husin wants from this work is straightforward: "I want the audience to look at it and remember their childhood, remember that they used to do these things and that they were happy.
I want them to have a connection to the paintings."
THE WORLD IS CHAOS
Haafiz Shahimi's Sleeping Beauty is a lush, haunting piece, an image of a giant dusk-coloured moth with fish squirming towards its head from the periphery of its wings.
The background is pitch black, but a soft light illuminates the centre of the work.
"You know when you're driving around and you suddenly enter a tunnel, it's all darkness and you're waiting for the light at the end.
When you come out at the end, it's as if you were reborn," Haafiz says, explaining the reasoning behind this work of halflight.
"That's the feeling I wanted to visualise." Haafiz's approach to the theme is an intriguing one, similar to his approach to creating his works in general.
Known for his pyrography technique of heating up metal molds to create burnt-on images on jute and canvas, Haafiz is fresh off of his first solo exhibition, RAGE, held in May this year.
This printmaker has rather eclectic inspirations, drawing ideas from silat, B-boying and the study of physics.
The latter is what led him to the use of pyrography, as he explored the enmeshing of science and art, thermodynamics and jute or canvas.
Both Sleeping Beauty and Confused Sexuality, his other work on show at Soya Cincau, have a strong grasp on symmetry.
Confused Sexuality is a painting that plays with light — one side is a complete image of two lepidopteras abutting each other, their wings merging while schools of ghostly fish with flower tails creep along the edges, all in muted shadow, while the other side reveals splashes of colour — red, yellow, blue — and stranded fish nearer the centre.
Light from one of Core Design's large glass windows flows through the oil-on-canvas painting, washing the paler side in faint colour, and revealing the outlines of hidden fish.
"There is so much chaos in life," Haafiz says of the need to compose symmetry in his works.
He refers to the heat introduced by pyrography as part of that chaos, and "even though fire is associated with anger, rage, it can be directed through symmetry".
Symmetry is a calming outlet, a spot of peace in the midst of the disorder that signifies everyday life.
THE CONSEQUENCES OF SHADOW
Chuah Shu Ruei's Dunia (Turning) is one of the two kinetic installations featured in Soya Cincau.
It is a deceptively simple piece, a canvas cone floating in a small circular basin atop a pedestal, with a pair of mirrors leaning against the wall in the background.
Turning is part of a series by Chuah called Dunia, one born of her interest in "how people perceived the world, perceive reality, and create definitions of reality based on the limitations of our senses".
In Turning, Chuah is looking to expand beyond the simplistic idea of black and white.
The cone, with its undulating cutouts, is alternately illuminated from within by yellow light and from without by hard white light, casting shadows on the walls as it turns and wobbles on the surface of the water.
In the mirror, the viewer can see the play of constantly changing shadows on their faces as they contemplate the installation.
"I used water instead of attaching a motor to the cone because reality is unpredictable, random, like the movement of water, like our minds and subconscious," Chuah says.
"We live in a world of chaos and we try to create some sort of order out of it." The cone, a stable form, is the order that we try to create, but in the end it is still resting on a reality of unpredictability.
Not that Chuah is championing order.
The decorative cone, she says, is where we carve out our beliefs.
The emanating shadows are how we impose these beliefs outwards, and the consequences of this imposition falling on others.
Even these shadows are misshapen, straying from a resemblance to the original shapes.
"We don't really understand what reality is," Chuah says.
"What we understand of it will always be distorted."
---