The Distinguished Selection
A rare glance into critical contemporary paintings
Spinning off from 2010, much has been happening in the contemporary art market front for Malaysia. Several auction houses specialising in art have spruced up while artists and galleries strive forward to put up exciting and innovative art shows.
National art institution – Balai Seni Visual Negara (Malaysia's National Arts Gallery) – showcased established Malaysian artist Amron Omar's Pertarungan show in 2012 and impressed further with a retrospective of works by Malaysian art prodigy Anuar Rashid in 2014 through Mihraj – Aku Hanya Seorang Tukang Cerita show…a seminal collection of works that were largely unseen-of collectively through the years.
The 'wow' show, Great Malaysia Contemporary Art (GMCA) by Core Design Gallery debuted into the local arts scene in 2013, showcasing a collection of seminal artworks from select top Malaysian contemporary artists. GMCA proved to be an eye-opener, a platform where the general public was taken, amazed by the versatile talents of our Malaysian contemporary artists through their seminal and innovative artworks.
Throughout the past half-decade, private galleries too led the way with significant art shows such as Grande and Landmark shows that pushed the limits of our local creative talents. This moment in time proves to be a significant turning point for the Malaysian contemporary art market. Simultaneously, there lies notable growing interest within the region in our Malaysian contemporary arts, duly evidenced through the growing response from galleries and art fairs.
A fitting retrospective for the close of this exciting half-decade…as 2016 begins, this show is a premium selection of seminal artworks from top Malaysian contemporary artists such as Anuar Rashid, Ali Nurazmal Yusoff, Ahmad Fuad Osman, Husin Hourmain, Shooshie Sulaiman and Zulkifli Yusoff. This show serves as a testament of the undeniable progression of Malaysian contemporary arts, identifying seminal works and celebrating the rapid development of our acclaimed artists…of how far they have come today.
Exhibition dates: 7 April 2016 – 30 April 2016
THE WORKS
MIH(RAJ) – HOME SWEET HOME, NORTH STAR CONSTELLATION OF GALAXIES
by ANUAR RASHID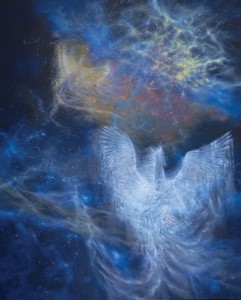 Mih(raj) – Home Sweet Home, North Star Constellation of Galaxies
Oil on Canvas
285cm x 233cm
2013
Artist Extraordinaire
Marked as Malaysia's brilliant art prodigy in the late 1970s, young Anuar Rashid was recognised and has exhibited with art masters such as Ibrahim Hussein at the tender age of 19. Renowned for his Inderaputera series, its debut in the 1970s revolutionised the Malaysian arts scene.
Significance of Artwork
Following his successful retrospective Mihraj – I am Just a Storyteller (Saya Hanya Seorang Tukang Cerita) at Balai Seni Visual Negara in 2014, the renowned Anuar Rashid still commands the audience with his immaculate and spiritually inspired paintings. Mih(raj): Home Sweet Home, North Star Constellation of Galaxies proves to be the centrepiece of his Mih(raj) series, the finale piece and the climatic work of the series that pays homage to the sacred journey of Isra and Mi'raj within the Islamic communion. Making its debut in the acclaimed Great Malaysia Contemporary Art (GMCA) show in 2013, the artist drew in crowds naturally with his matte touch to his primary medium of oil on canvas.
RALIK 2
by ALI NURAZMAL YUSOFF


Ralik 2
Oil on Canvas
183 cm x 457 cm
2015
Artist Extraordinaire
The 2012 ALISM show was a key turning point for Ali Nurazmal, marking a benchmark for the figurative art within the Malaysian arts scene. A realist painter, Ali Nurazmal progressively develops his art through the years, marrying the East meets West approach both technically and conceptually. Finally at Art Stage Singapore 2016, ReALISM made its debut as Ali Nurazmal Yusoff bemused his audience with his latest technique, combining abstraction, figuration and movement. ReALISM proves to be a critical show, garnering media attention and recognition from artists and art enthusiasts in the regional and international arena.

Significance of Artwork

This seminal work made its debut into the international arts scene in ReALISM at Art Stage Singapore 2016 – the much looked out for regional arts fair. The work showcases the artist's latest artistic development, a delicate combination of abstraction, figuration and movement. Ralik 2 represents a personal reflection of the artist, of his hopes for his country in the near future and strikingly encompasses his Malaysian identity and Muslim beliefs into one.

FEELING GOOD & SUPPLIER
by ALI NURAZMAL YUSOFF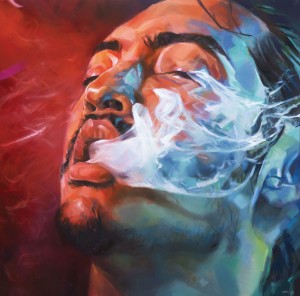 Feeling Good
Oil on Canvas
152 cm x 152 cm
2012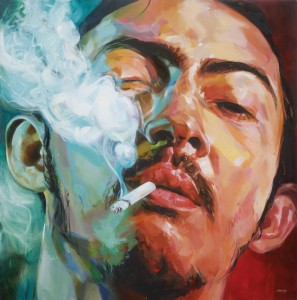 Supplier
Oil on Canvas
153 cm x 153 cm
2011
Significance of Artworks
Supplier and Feeling Good, showcased in 2011 and 2012 respectively, are two important works by the artist that testifies to his unequivocal skill and talents in figurative works. Transitioning from abstraction to figurative, the perspectives and subtle moods through the skilful use of contrastingly dominant tones of red and green together with the eloquent strokes of swirling smoke masterfully produces a painting that comes to life…
MASTERMIND & MONOLOGUE
BY ALI NURAZMAL YUSOFF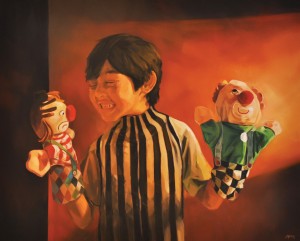 Mastermind
Oil on Canvas
122 cm x 153 cm
2012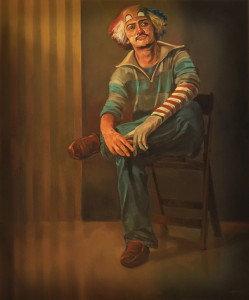 Monologue
Oil on Canvas
148 cm x 118 cm
2012
FINALE OF AWAL HUROUF ASAL HUROUF
by HUSIN HOURMAIN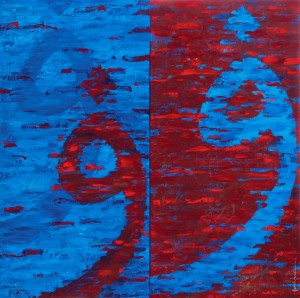 Va
Acrylic on Canvas
152 cm x 152 cm
2015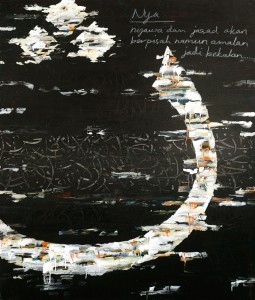 Nya
Acrylic on Canvas
152 cm x 122 cm
2015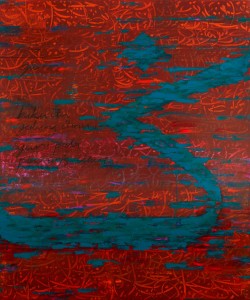 Gha
Acrylic on Canvas
152 cm x 122 cm
2015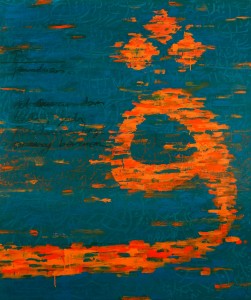 Pa
Acrylic on Canvas
152 cm x 122 cm
2015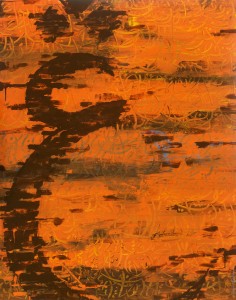 Nga
Acrylic on Canvas
152 cm x 122 cm
2015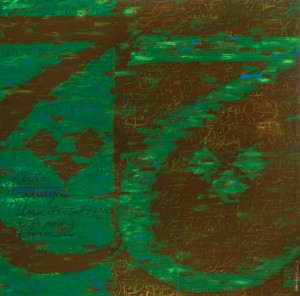 Cha
Acrylic on Canvas
152 cm x 152 cm
2015
Artist Extraordinaire
Following from his highly successful Awal Hurouf Asal Hurouf solo show in 2013, artist Husin Hourmain was henceforth recognised and acclaimed as the top contemporary Islamic calligraphy artist in Malaysia. Driven by his passion to instill interest and awareness of Jawi amongst the new generation, his three-year-long effort producing the works of Awal Hurouf Asal Hurouf paid off. Comprising of 30 Jawi alphabets, works of Awal Hurouf Asal Hurouf were sold out, going beyond the borders of race, religion and culture. It brought about an appreciation anew for the Arabic language and left many asking for more.
Significance of Artworks
This collection of 6 paintings titled Cha, Gha, Nga, Nya, Pa and Va are the grand epilogue to the artist's Awal Hurouf Asal Hurouf series. These 6 alphabets represent the Malaysian Malay localised version of the Jawi alphabets and is nothing but a fitting finale completing his initial series of 30 Jawi alphabets of the original Arabic. A true Malaysian at heart and staunch Muslim, the 6-piece finale completely resounds the artist Husin Hourmain as we know him, as he celebrates his Malaysian Muslim identity as one that bespeaks beauty, creativity and cultured elegance.
PURELY LOVE: LEMAN DAN MERIAM
by SHOOSHIE SULAIMAN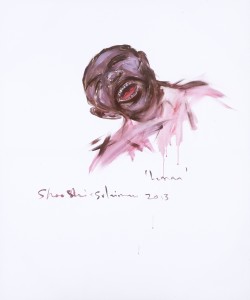 Purely Love: Leman
Acrylic on Canvas
120 cm x 100 cm
2013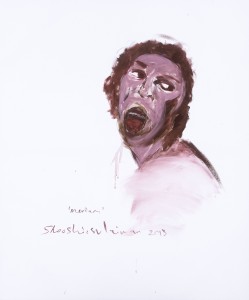 Purely Love: Meriam
Acrylic on Canvas
120 cm x 100 cm
2013
Artist Extraordinaire
Internationally and critically acclaimed, Shooshie Sulaiman is recognised both as a prominent artist and award winning curator. At the prestigious Documenta 12 Germany, Shooshie was the first ever South East Asian artist to be specially invited to participate in this event. Conceptually strong, Shooshie Sulaiman is renowned for her narrative driven works revolving around her cultural identity and documenting events that encapsulates her. Her art repertoire is wide, ranging from drawings to paintings to installations and video projections. She partakes in a long string of renowned exhibitions locally and internationally, Art Stage Singapore 2011, Art Basel Unlimited, Gwangju Triennial, Florence Biennale and Art Basel Hong Kong just to name a few. Her works are collected in both public institutions and private collections worldwide.
Following her debut at Art Stage Singapore 2011 with her intricate Kedai Runcit installation, Shooshie Sulaiman is currently represented by top Japanese gallery, Tomio Koyama whose portfolio includes art icons such as Yoshimoto Nara.
Significance of Artwork
This proves to be a rare painting by the artist as it draws on a more personal note; of her affections and expressions of her loved ones. Shooshie carries with her a definitive painting style, with her subtle yet decisive single strokes that sets her apart from her peers at large. Through the years, her lone figure drawings and paintings are of a darker nature. Purely Love: Meriam dan Leman are two of the few paintings where she expresses with a refreshingly mellow tone of dark lilac, duly encapsulating the character of her subjects in the simplest and minimalistic way.
RUKUNEGARA 2 SERIES: VOICE 1 AND VOICE 3
by ZULKIFLI YUSOFF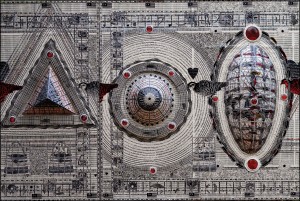 Rukunegara 2 Voice 1
Mixed Media, Screenprint and Acrylic on Canvas
122 cm x 183 cm
2013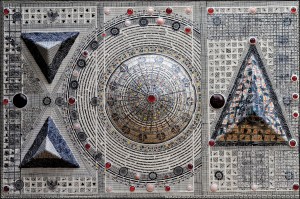 Rukunegara 2 Voice 3
Mixed Media, Screenprint and Acrylic on Canvas
122 cm x 183 cm
2013
Artist Extraordinaire
Iconic contemporary artist Zulkifli Yusoff is no stranger to the arts world both local and abroad. Maintaining a multi-disciplinary approach to his art, Zulkifli Yusoff carries with him a commendable award winning practice; namely winner of the National Young Contemporaries for two consecutive years 1988 and 1989 and the renowned Philip Morris Asean Art Awards 1995 amongst others. Remarkably, he poses as the first ever Malaysian artist to participate in the prestigious Venice Biennale in 1997, garnering much acclaim with his seminal installation work, Don't Play During Maghrib.
Ranging from a variety of mediums from paintings, drawings to printmaking to sculptures and installations, Zulkifli Yusoff's versatility is unquestionable as he is never quite contented with a singular mode of artistic expression. True to his nature, he not only plays the role of an exemplary artist but that of a highly respected art professor, continually seeking out new mediums and sharing the arts with a younger audience. Notably so in 2007, Zulkifli Yusoff was bestowed by the Malaysian government with the Anugerah Akademik Negara, the highest academic accolade for his contribution to the country's visual arts industry.
Driven by his personal conviction that a society's actions today are key attributes of influence for the next generation, his works are fully reflective of his cultural identity as a Malaysian, always containing elements of patriotism and nationalism. Zulkifli Yusoff is recognised as a true and critical heritage documenter and social critic of his time, playing a significant role towards the development of our visual arts and culture.

Significance of Artworks
True to his intuitive and inquisitive nature, Zulkifli Yusoff's artworks are delicate and refined with tedious analytical research into history of the nation. Combining his printmaking and painterly skills, his typographical canvas strips remain one-of-a-kind, his personal signature style. Undeniably complete with fine art elements, his unique technique masterly transforms the prints and collages into a singular painting…so akin to painting with words instead of the standard colours.
Art Stage Singapore 2013 was witness to the beginnings to his Rukunegara series. Rukunegara I: Percaya Kepada Tuhan was a seminal and crowd pleaser installation that garnered much attention both media and public alike as it provided a different vantage point of Rukunegara, Malaysia's official national principles; one of an engaging aesthetic visual and of critical analysis.
Now Voice 1 and Voice 3 is an exemplary continuation of his Rukunegara Series that transcribe the nation's second principle – Kesetiaan Kepada Raja dan Negara. The delicate prints of Voice 1 are a recap critically selected from the late Usman Awang's poetic literature excerpts of a nation under foreign rule while Voice 3 is a patriotic resonance of Malaysia's national anthem, Negaraku. Referencing critical texts and historical referendums, Voice 1 and Voice 3 are a detailed compilation by the artist, citing his social critique of the nation's past and development…and of the way forward.
The masterful combination and meticulous detailing are a result of intricate and structured planning by the artist. Coupled together with his analytical composition and selection of excerpts, Voice 1 and Voice 3 are undeniably artworks not to be missed, which not only resound the culture and identity of Malaysia as an independent nation but of the promising characteristics of a powerful nation to be reckoned with.
UNTITLED
by AHMAD FUAD OSMAN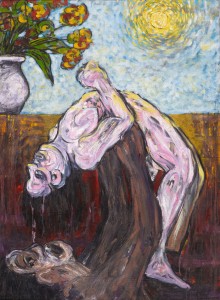 Untitled
Oil on Canvas
111 cm x 85 cm (with frame)
1995
---